KHUMBILA - derives its name derives its name from the sacred mountain, holy to all Sherpa's, that overlooks the village of Khumjung in the Everest region. Since 1986, KHUMBILA has been delivering travel holidays in the Himalayas through our agent booked treks and help create tailor make custom holidays for travelers around the world.
Some renowned world-class European guides, who are celebrities in their own right in their home countries, work with KHUMBILA. We have several special trips, which are led by them. On a more flexible mode, you could form a group and tailor make your program and ask for any one of these specialized guides to lead your trip.
The Himalayas has always been our specialty and we are committed to sharing the essence of the region – its culture, people, vastness and timelessness – an experience that guarantees adventure, personal satisfaction and self-discovery.
---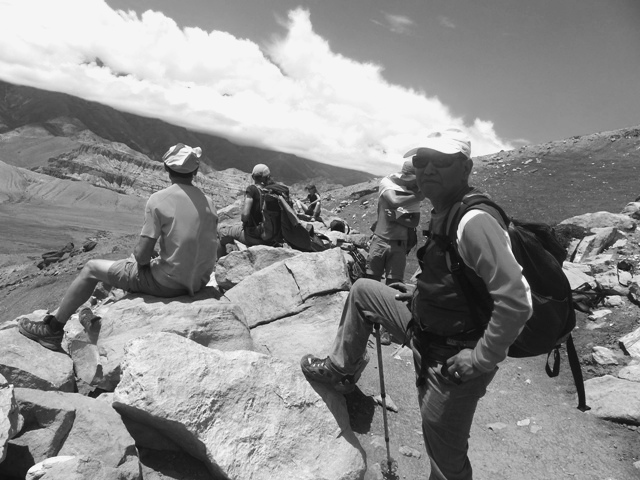 ZIMBA ZANGBU SHERPA
Founder
Zimba Zangbu Sherpa, who has been in the tourism field since the last couple of decades, manages the company, and is a pioneer in the travel industry of Nepal. From 2009 to 2013, he served as the President of Nepal Mountaineering Association, a national alpine association of Nepal to promote mountain tourism, climbing sports, and protect mountain environments. From 2016, Sherpa became a member of UIAA – International Climbing and Mountaineering Federation.
He is ably assisted by a team of dedicated professionals, and lends his expertise and years of experience, to the various trips undertaken by the company. Born in Khumjung, he went on to study in the celebrated ' Hillary School ' and later on in Kathmandu. He has undergone various trainings and has been conferred with many awards to honor his involvement in the tourism sector in Nepal. Trained as a trekking guide in 1977, he went on to undertake a course in Rock and Ice Climbing from Argentiere, France with UCPA, 1979 and a year later with UCPA Le Bez, Sierre Chevelier. Apart from basic course and advanced course in Mountaineering he holds "Diplome d'Honneur" in Alpinism from Ecole Nationale de Ski Et Alpinisme under the Ministre Delegue A la Jeunesse et aux Sports. As a trained mountaineer he has climbed several peaks around the world namely Mount Blanc and Mattro Horn in Europe, Ganesh Himal and Amadablam as well as most of the trekking peaks in Nepal. An avid nature lover and a trekker at heart, he has visited most of the regions in Nepal.
Extra Qualification:
Trekking Guide training, HMTTC - 1977.

Rock and Ice Climbing from Argentiere France with UCPA - 1979.

Rock and Ice Climbing with UCPA Le Bez, Sierre Chevelier, FRANCE - 1980.

Basic Course in Mountaineering, Manang NMA - 1981.

Advanced Course in Mountaineering ,Manang NMA - 1982.

Diploma d'Honneur in Alpinism , Ecole Nationale de Ski Et Alpinisme under the inistre Delegue A la Jeunesse et aux Sports,FRANCE- 1983.
Mountaineering Experience in Europe & Others :
Climbed Mount Blanc 5 times from different routes and climbed most of the peaks around Charmonix and Sierre Chevelier.

Climbed Mattro Horn (Switzerland)

Climbed Mt Fuji in JAPAN

Climbed Mt Kuiten in MONGOLIA Mountaineering Experience in Nepal:

Climbed most of the trekking peaks in Nepal.

Climbed Ganesh Himal with Nepal Japan-Joint Expedition in 1980.

Climbed Amadablam successfully with French Expedition in 1981.

Climbed Everest West Ridge, 1983-84 Winter with Croisser Blanc's French Expedition (not summit)

Climbed Everest South Face, 1984-85, Winter with Korean Alpine Club (not summit)

Leader Amadablam Torch Expedition , Visit Nepal 2011

Co-Leader, Lumbini-Everest Expedition Team 2012 Professional Status
- Presently Director of Khumbi-Ila Mountaineering & Trekking (P) Ltd and Khumbi-Ila Voyage Travels & Tours (P) Ltd.
Atalante Mountaineering & Trekking (P) Ltd.

Hotel La-Villa Sherpani, Lukla.

Immediate President , Nepal Mountaineering Association (Current)

Khumbi-Ila Samrakshhan Pratisthan/Khumbi-Ila Trust (Current)

Advisor of "Grandir au Nepal" – INGO (Current)

Convener International Mountaineer's Memorial Park, Kakani (Current)

Member Mountain protection commission, Union of International Alpine Association (Current)

Life Member, Khumjung Youth Club

Convener International Mountaineer's Memorial Park

Executive member of NMA Secretariat

1st Vice President, Nepal Mountaineering Association (2002 – 2005)

Convenor, Artifacts committee, Pokhara International Mountain Museum

Convenor, Discipline committee

1st Vice President, Nepal Mountaineering Association (2005 -2008)

Convener International Mountaineer's Memorial

Life Member , National Human Rights Foundation

Life Member, Nepal Thailand Friendship Association

Life Member, J. P. Foundation

Everest Foundation – Life member

Patron and Life member of " Sherpa Sewa Kendra"

Member – Khumjung Secondary High School Management Committee

Advisor – Khumjung Gomba Management Committee

Member, Nepal Women Millennium Everest Expedition Spring 2000

Executive Member, Nepal Trekking Agents Association (1992 –1998)

Executive member Nepal Mountaineering Association (1999 – 2001)

Ex Vice President of Union of Asian Alpine Association (2008-2013)

Executive Member for Kalapathar cabinet meeting (2009)

President, Nepal Mountaineering Association ( 2009-2013)

UIAA – International Climbing and Mountaineering Federation

(2016 - present)
KHUMBILA FOUNDATION

From each trek we operate we donate a small amount to support the Khumbila Foundation that is involved in reconstruction of Thadi Village, which was devastated by the earthquake. It is non-profit non- governmental organization that works for the welfare of the mountain communities and the conservation of the Nepalese Himalayas. The vision of the foundation is to use tourism as a tool for the promotion and conservation of the mountains and its culture. Presently it is actively involved in earthquake relief and rehabilitation. We support the "Nepal Guide Program" program, which is an initiative to produce Nepalese mountain guides who are also ski mountaineering trained - a discipline in which our guides lack. We conduct this program is conducted in collaboration Nepal Mountaineering Assocaition, Nepal Olympic Committee and Nepal Ski Association. Jean Michel Jorda, Paul Matheiu Fritsch and renowned American free style skier Glen Plake are the international instructors who teach the Nepalese Mountain Guides